Inuit have long attested that narwhal also use their tusk to tap and stun fish before eating them and
recent video footage
has verified that knowledge in a first for western science.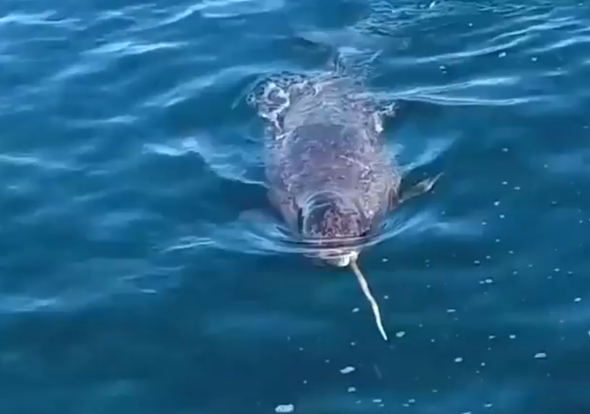 A NARWHAL ABOUT TO STUN A FISH WITH ITS TUSK.
Arctic expedition videographer
Adam Ravetch
captured the footage of narwhal stunning and feeding on Arctic Char with the help of an aerial drone camera on behalf of the
World Wildlife Fund Canada
expedition.
"As soon as they saw the playback on the small screen, they knew something interesting was happening and definitely needed to be checked out further," said
Brandon Laforest
, a senior specialist in Arctic species and ecosystems for WWF-Canada. Upon further reviewing the footage below, scientists were able to verifiably confirm that narwhals do indeed also use their tusks as a fish stunner, oftentimes idly swimming through a school of char and lightly bopping the fish with their 3 meter long tooth before swimming up to and eating the fish.
Narwhal primarily live in Baffin Bay – a large body of water between Greenland and northern Canada in the Arctic – where they
seasonally migrate
from the south in the winter to the northern reaches of the Arctic in the summer. The elusive and rare whales are often difficult to study given the remote region that they live in. But a number of studies have been mounted over the past couple of decades to decode the mysteries of this anomalous species.
Dr. Martin Nweeia
,
Harvard Professor of Dentistry
and fellow of The Explorer's Club and
The Smithsonian Institute
, has been studying the fascinating tooth for almost two decades during numerous Arctic Expeditions involving live capture of narwhals.
His theory
, and experiments attest, is that the tooth is also
a sensory organ
as it has millions of tiny holes that allow the animal to 'see' the chemical components of the water, as well as the temperature, allowing them to navigate in the cold, dark waters of the Arctic.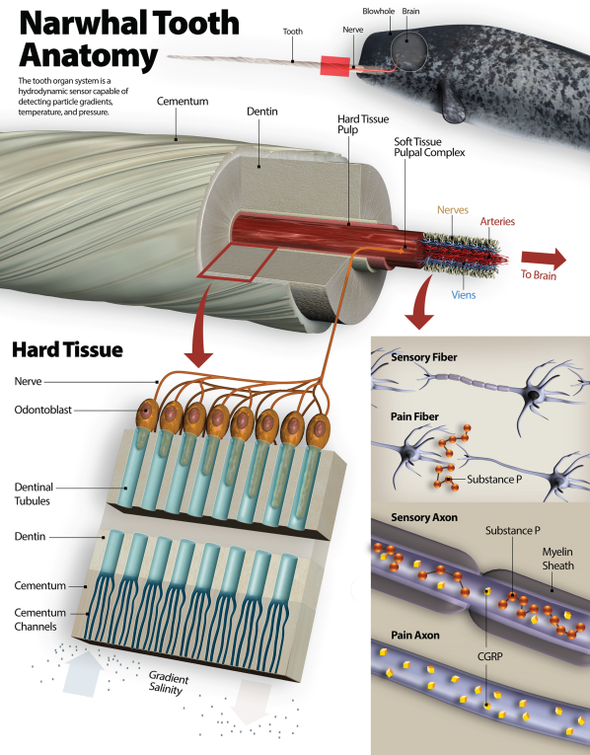 The tooth has hundreds of thousands of receptors that lead to the center of the tooth and nerve fibers that feed directly into their brain just above their auditory cortex. The theory is that they can 'sense' the salinity and temperature of the water allowing them to navigate from the sea floor,
narwhals are the second deepest diving whales,
back up to holes in the ice, called
polynyas
, allowing them to breath.
These new discoveries are thanks to Inuit concerns regarding the future of the species and working in conjunction with western scientists to learn more about the migration patterns, social behaviors, and physiological makeup of these rare whales, often referred to as, 'the unicorns of the sea.'